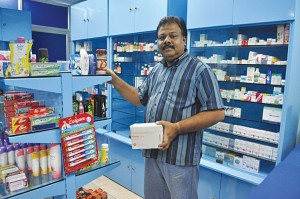 By Our Staff Reporter
Kamadhenu Co-operative Medical Shop is part of a chain of medical stores that was launched by TUCS Ltd.
On such shop had opened in R. A. Puram, diagonally opposite Bilrooth Hospitals. The shop stocks over 6000 medicines and they are priced lower than those sold at pharmacies. It also sells life saving drugs and cardiac and diabetic medicines.
A discount of 12 – 15 % is provided on every purchase. The discounted amount is given in the form of coupons. These coupons can be claim when making a purchase at any Kamadhenu Co-operative outlets.
Apart from selling Allopathic medicines they also sell Ayurvedic, Unani, Tampcol, Siddha and IMCOPS medicines.
In order to promote Indian medicines, a free consultation centre will be set up here, says Sakthi Saravanan, special officer for Kamadhenu medical shops.
Siddha, Unani and Ayurvedic doctors will be available during the week at these centres.
The shop will be open from 9 a.m. to 9 p.m. all seven days of the week.
Free home delivery is offered but for a minimum purchase of Rs.500. Delivery will be done within 3km radius only.
"Not all drugs can be home delivered. We will require the doctor's prescription for certain drugs," says Sakthi, staff.
This fully air-conditioned shop has been opened for public from August 2.
This shop is located at 17, 2nd Main Road, R. A. Puram. Ph: 2345 3440