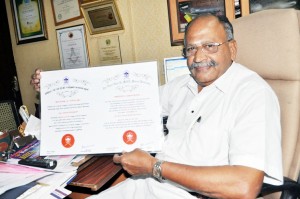 By Mariayn Jennifer
Prof. Capt. Dr. B. Biswakumar (70) is a resident of MRC Nagar. He was awarded the Degree of D.Sc. (Doctor of Science Honoris Causa) at the 20th annual convocation of the Tamil Nadu Dr. M. G. R. Medical University.
The event was held on July 10 at the Madras University Centenary auditorium, Chennai. Dr. A. P. J. Abdul Kalam, former President of India was the chief guest.
Dr. B. Biswakumar, who has his clinic in Mandaveli was recognised for his service in the field of neurology.
D.Sc. (Honoris Causa) is awarded in recognition of the scientific, academic and social contributions of an eminent person and is the highest Degree conferred by the University.
Dr. B. Biswakumar completed his MBBS in Madurai in 1962. He did his M.D. in general medicine and D. M. in Neurology.
He served in the army as a doctor during the Indo -Pak war in 1965. "The soldiers looked at me as their elder brother and would confide their problems to me", he says.
Later, he began teaching neurology in various institutions apart from practicing it. He also provides consultation services to many hospitals in Chennai.
He is an active member in many professional bodies like the Indian Medical Association and Neurological Society of India. He is the Grand Master of the Freemasons of India and has been the first doctor to get this post.
Biswakumar says that at this age he is a very competitive tennis player and is one of the top ten players at the national level.
He has received many awards for his service and has been organising many free health care camps for children and senior citizens in and around Chennai.
He practices at his clinic, which is his ancestral house. The address – 170, R. K. Mutt Road, Mandaveli. Ph: 2493 9735.