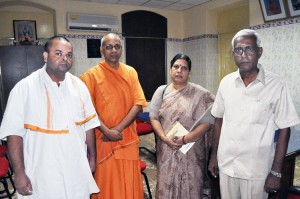 Ramakrishna Mission Vivekananda College in Mylapore has introduced a post graduate degree in social work (MSW, Master of Social Work) for men.
The inauguration took place on August 3.
The chief guest for the launch was M. P. Nirmala, I.A.S. Commissioner, Dept. of Social Welfare, Govt. of Tamil Nadu (seen in the photo).
This is a two year degree and is available only in the evening college.
Students can specialise in Human Resources or Community Development during the final year, says P. R. Ramakrishnan, Prof. In charge of the evening college. He says that the course has a good demand and students will be placed through campus recruitment.
The admission for this course will be open till the end of August.
The college is located at 70 – 72, P. S. Sivaswami Salai, Mylapore. For details contact 044 2499 3057/ 2499 2815.