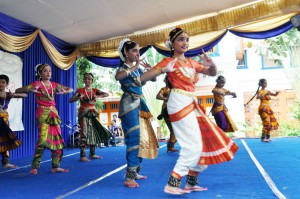 Svanubhava, a fest for students of classical dance and music in Chennai began on August 2.
It is organised by Matrka (a body promoted by artistes T. M. Krishna and Bombay Jayashri) and YACM (Youth Assn. for Classical Music). The fest will be held in different parts of the city till August 7.
On August 4, the fest was held at Chettinad Harishree Vidyalayam School in R A Puram.
The program began with a dance and a song performed by the students of the School.
Art director Thotta Tharani was the chief guest for the fest.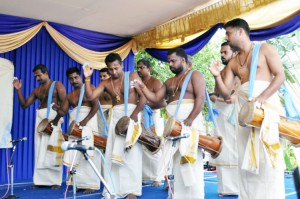 There was a Pancha Vadhyam concert by Chottanikkara Subash Narayana Marar, a vina concert by E. Gayathri, a talk on 'Music in Films' by film maker Rajiv Menon and playback singer S. P. Balasubramaniam, and a special concert by O. S. Thyagarajan, O. S. Sundar and O. S. Arun and party.
The first photograph is of the students of Harishree Vidyalayam giving a dance performance and the second photo is of the Pancha Vadhyam concert.
For information of the fest click here.