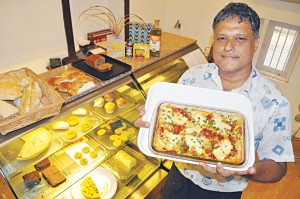 Chef Joe Lobo has his hands full. But he seems to be a master of this art. Serving customers, cooking and telling us about what Crust Delicatessen is all about.
A chef for over two decades he explains how he strives to bring perfection to his cooking.
The Crust was open some months ago in Abhiramapuram. This place serves pizza, sandwiches, fresh salads, pasta and lasagne, pastries, pie, desserts, breads and fresh cheese.
Joe says that the food served here is very adaptable. It is fresh, organic and made from local ingredients, he adds.
"My job is not to give you junk food. I serve only seasonal food as it is healthy, wholesome and helps your body adapt to the prevailing climate," says Joe.
All ingredients are handpicked from the local market and the sauces and mayonnaise are prepared in the kitchen.
Homemade pestos, mayonnaise, salad dressings, pasta sauce with no preservatives are sold here.
Joe says that his menu is small and he serves about five dishes. But his recipes have already created regulars.
The eat out is open Monday to Saturday, 10.30 to 7.30 pm and on Sunday, 2 to 7 p.m. He also provides take away.
The eat out is located in the campus of Asharaa Boutique – at 18, Bheemanna Garden Road, Abhiramapuram ( the road alongside Kirtilal Jewellers). Ph: 2467 0298.