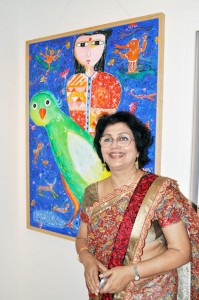 Art promoter Meena Dhadha has moved her gallery yet again.
This time Prakrit Arts finds space in a house at 73, Greenways Road Extension, R. A. Puram ( this road leads off from the main near State Bank of Travancore).
Meena had launched the gallery in the basement of the apartment block in R. A. Puram where she resided. Senior artist Solanki from Gujarat who was present at the recent launch joked that he was aghast when he first saw the place which was more like a sparse bedroom!
Meena then moved the gallery to Kotturpuram and hopes the present address will be permanent.
Across the 1000 sq. ft space she how hosts a painting exhibition titled 'The Old Guard and the Young Turks' featuring  the works of artists like K. M. Adimoolam and Muralidharan.
Prakrit Arts is open Monday to Saturday, 11 a.m. to 6 p.m.