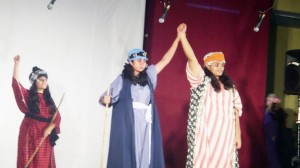 The recently-held diamond jubilee celebrations of Rosary Matric H.S. School at San Thome featured a variety of events.
One was a play based on a Biblical theme taken from the Book of Samuel. It was performed by the students of ninth and eleventh standard.
The play was directed by V. Balakrishnan. He is the artistic director of Theatre Nisha, a city based theatre group.
J. Mira shot some pictures of the jubilee celebrations and mailed some for use in this report. She is a student of 11 std. of the school and resides at R. A. Puram.
<< You are welcome to e-mail photos of local events to this web site. Please make sure you also send a caption with details of the event. >>