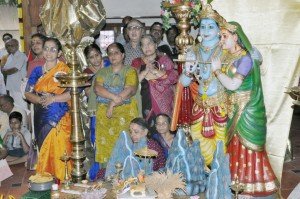 Krishna Jayanthi was celebrated on  September 1 / 2 in the Mylapore neighbourhood. One got to witness lots of children in the middle of the religious and social functions.
Nandalala's Cultural Centre on Dr. Ranga Road gets up grand events on its campus. Poojas included abhishekams on 3 days. Lifesize statues of Lord Krishna and Radha were setup (seen in the picture).
The Krishna Janana Vaibhavam (cradling of Lord Krishna) was  held on September 1.
Visitors stayed on to watch the fun at the Uri Adi contests held on this campus while elders prepared their children for a Bala Krishna procession on one evening.
We spotted young Akilesh dressed like Krishna carried around by his parents while Meera Narayanan of Abhiramapuram chose to design an alankaram for the Lord at her house the way it is done by Keralites who are devotees at the Guruvayur Temple.
Click here to see the pictures of the Krishna Jayanthi celebrations in the area. You can also see the video of the event.