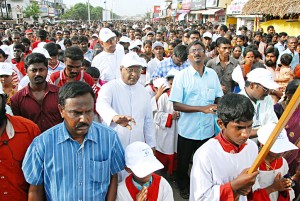 San Thome High Road presented a rare visual on Sunday, August 29. It turned out to be the path of pilgrims. Pilgrims on their way to the Annai Vailankanni Shrine in Besant Nagar.
Sunday was the start of the 10-day festival in honour of Mother Mary at that church, which is modeled on the world famous shrine located in Vailankkani, near Nagapattinam in south Tamil Nadu. The day featured the hoisting of the shrine's flag later in the evening.
So, pilgrims from all over the city who vow to undertake a pilgrimage on foot took the main roads that lead to the church which is located on the sea shore off Besant Nagar.
Seen in the photo is Auxilary Bishop Lawrence Pius joining pilgrims in Adyar.
Those who undertook the pilgrimage from areas in North Madras, from Royapettah and Royapuram, from San Thome and Luz trekked it to San Thome High Road which leads directly to the Besant Nagar church.
This road had been cut off for the Chennai Marathon that was held since 6 a.m. but when traffic resumed so did the stream of pilgrims. Families, couples, groups, youths. Some were attired in saffron coloured clothes, the sort worn by sadhus and pilgrims. Some carried flags with images of Mother Mary.
They chatted, laughed and took in the sights on this busy road. Some were solemn, some in prayer.
The cathedral in San Thome was a sight to take in for those who had not been to these parts lately. Traffic police extended their duty hours to manage the pilgrim flow which trebled after lunch time.
At some places on the pavement, volunteers had set up 'pandals' and served water or buttermilk freely. It was a rather humid day. And the pandals made observers think of the sights they are used to as devotees head to the arabathumoovar fest at Sri Kapali Temple, Mylapore.
Elsewhere down the road, off the Adyar Poonga periphery, groups sat under avenue trees or in the porticos of buildings to partake of lunch they had carried. San Thome High Road had turned into a pilgrims path.