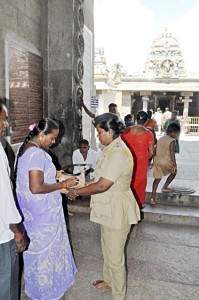 City police stepped up security around the city as the nation awaited the court's verdict on the Babri Masjid case today (Sept.30).
In Mylapore, the security was in place at the Sri Kapali Temple.
Since Wednesday night, women and men police constables were stationed at both the entrances of the temple.
People visiting the temple were frisked and their bags were checked.
The flow of temple-goers was also thin through the day.
Picture shows a woman constable of Mylapore police station checking a temple-goer's bag at the eastern gate of the temple.