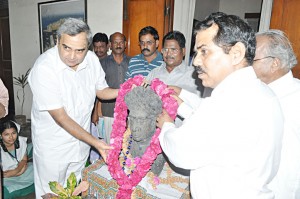 Special events were got up in Mylapore to mark  'Teachers Day' celebrated on September 5.
Since the day fell on a Sunday, the events on local campuses were held on the eve of the weekend.
The state decorates the 'best teachers' formally and the head of Sivaswami Kalalaya Hr. Sec. School in Mandaveli was among the awardees.
At the St. Thomas Basilica, San Thome, the priest celebrating the noon English Holy Mass invited the teachers in the congregation to step up to the altar. The choir sang a song for them and the priest blessed them.
Earlier, parish priest Fr. Kanikairaj led a function for teachers and children from the 2 primary schools that he manages in this area.
At Dr. Radhakrishnan's House located at 93/97, Dr. Radhakrishnan Salai, Mylapore, a special celebration was held.
V. Vijayakumar, Vice-Chancellor of Dr. Ambedkar Law University was the chief guest.
M. Murali, MD of Sri Krishna Sweets garlanded the bust of Dr. Radhakrishnan (photo above).
Jayabalan, District Judge of High Court released a book on Tamil poems the first copy was received by Murali. Several teachers from Tamil Nadu were facilitated at the event.
<< Please email Teachers Day events to this web site >>