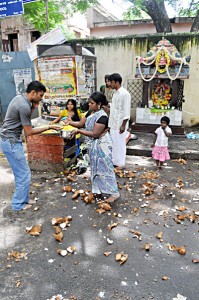 Vinayakar Chaturthi celebrations were solemn, colourful and lively in different parts of the Mylapore neighbourhood on September 11.
At the more popular Vinayaka temples, residents of the colony lined up to offer prayers and stay awhile if there was a concert in progress.
The more-recent-trend of installing Ganeshas in public spaces has taken root in this city but only a few were seen in Mylapore.
Kolu is now catching up among families – they create kolus in the drawing rooms not just at Navaratri time but also for Krishna jayanthi and Ganesh Chaturthi
The photo is of Arul Tharum Vinayakar temple in Abhiramapuram: coconuts as offering.
<< Take a look at a variety of photos of the fest in Mylapore >>