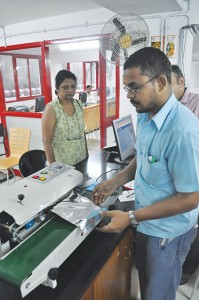 Now you can ship Navaratri dolls to your son in California or lemon pickles to your neice in Goa securely.
And you can trust India Post to do it for you in the Mylapore neighbourhood. A new parcel packing equipment has been installed at the Mylapore Head Post Office in Kutchery Road.
The vacuum packing machine or Band Sealer machine has been introduced by the postal service so that people can send edible stuff like pickles, jams, sweets, snacks, masala items and other things like pooja items, CDs and photo frames, household items in a secure parcel.
The machine will first seal the products into a leak-proof cover. These are then wrapped in alumni foil. They are then arranged in carton using packing materials, and this is then strapped with the India Post logo tape.
R. Venkatraman, Senior Superintendent of Post Offices, Central Zone says that this facility provides a kind of authorisation saying that the products inside are safe and have been authorised by the Indian postal service.
He also said that the edible foodstuff should be packed in plastic containers to ensure that they don't break.
You are allowed to send up to 35 kilos of stuff, says Venkatraman.
Carton with the India Post logo are available in different sizes to hold products from 2 kg to 35 kg.
You are charged anywhere from Rs.25 to 140 for domestic parcels and Rs.475 onwards for international parcels depending on the destination and weight. The parcels will be delivered within 3 to 5 working days.
This service is available from 8 a.m. to 8 p.m. at Mylapore. Sunday is a holiday.
For more details contact the Mylapore Head Post Office at 2461 0056 or Sundaramoorthy, Mylapore BPC 94444 56637.