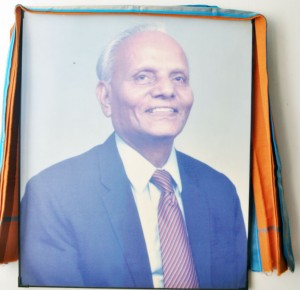 The birth centenary celebration of Ventangaraikava Ramaiyer Raghavan, known as V. R. Raghavan was celebrated on Nov 8 by his family and relatives at a house on Bishop Mathias Avenue, R. A. Puram.
Raghavan was associated with the planning and execution of some major hydro – electric and thermal plants in India.
He was born 1910 and studied at the Primary School in Chindadripet in central Madras and later joined the Hindu High School at Triplicane. He did his B.Sc. Physics Honours at the Presidency College and  his masters at the University of Madras.
He was married to Ramalakshmi  in May 1933 and was blessed with two sons and a daughter.
He later did his diploma from IISc and joined the Madras Electricity Board as a Junior Engineer. He work took him to many places in the country.
He joined the Central Water and Power Commission and worked in many hydro – electric and thermal plants in India.
His job made him liaise with the Planning Commission and he was associated with the Bhakra Nangal project, Damodar Valley Corporation, Hirakud Dam project.
He was deputed to the United Nation's ECAFE (Economic Commission for Asia and far East) in Bangkok, Thailand in 1958. He remained in this post till he retired in 1970.
Post retirement he used his professional expertise to help industries in South India build linkages for projects in south-east Asia.
He passed away on August 31 in 2003.
His son's family can be reached at 9, ABM Avenue, R.A. Puram. Ph: 24345663