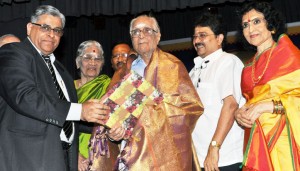 There must be hundreds of Mylaporeans who have stories to share about theirs or their families' association with Indian Bank's Mylapore branch which is celebrating its centenary now.
On Thursday last, when the bank hosted its first formal event at Bharatiya Vidya  Bhavan with its CMD, T.M. Bhasin. In its midst, the packed auditorium may have enjoyed trips down memory lane.
Among the guests were social worker Sarojini Vardappan, dancer-actor Vyjayanthimala Bali, former India cricketer and now chairman of the selection committee that picks the India team, K. Srikkanth, music director M S Vishwanathan and Mylapore MLA, S. V. Shekher.
All of them either remained formal or were light-hearted.
Only Sarojini, whose family has deep roots in the area, had stories to share. Of how the bank supported her to build a village temple, of how loans helped her Trust to develop a school and a college.
The evening was also an occasion to remember V. Krishnaswamy Iyer, renowned advocate, visionary and philanthropist who helped set up this bank in 1907. His grandson Ramamurthy Iyer was honoured on stage.
Over the next 12 months, a few events have been planned to celebrate this landmark of the Chennai-headquartered.
You can reach the branch at 2464 0289 / 2464 1420.
Click here to see more pictures of the event.