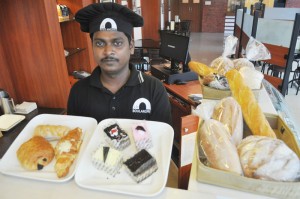 La Boulangerie, the French-styled bakery has opened a branch on Greenways Road in Raja Annamalaipuram.
This store, located in the premises of a petrol station provides authentic French bakery and confectionery products.
The products range from breads, cakes, pastries, chocolates and snacks like quiche and puffs.
"All our products are made from fresh ingredients and do not contain any preservatives," says Deeptha Reddy, Executive Director.
You can shop for whole-wheat loaf bread, extra fibre loaf, five-seed bread and five- cereal bread – which are now labelled as health food. These are priced from Rs.50 onwards.
Café La Boulangerie has a small restaurant with 36 seats. You can grab a quick meal of soups, salads, pizza and coffee.
You can also celebrate birthdays or host a small get together of 30 people at this place. Clients can order a special menu for such occasions.
The bakery is located at 26, Greenways Road, (opposite Hotel Raj Palace).  Ph: 2461 5550 / 95660 66775.