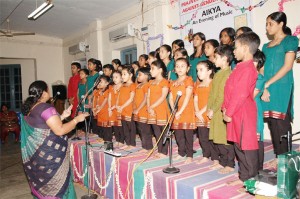 A choir performance by women and children was held on November 26 at Srinivasa Sastri Hall.
Women sang 'Kummiyadi penne Kummiyadi' penned by Bharathi. Children between the age 4 and 14 sang several patriotic songs.
Sudha Raja a member of Madras Youth Choir trained the group.
This performance was organised by The Prajnya Trust, which is holding an 16 days campaign against Gender Violence from November 25 to December 10.
For more information about the campaign call Prajnya at 97907 65916 or visit www.prajnya.in.