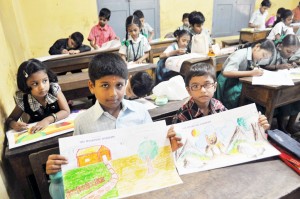 Children's Day was celebrated on Sunday, Nov 14. There were many competition and programs organised for kids on that day in the neighbourhood.
At The Mylapore Academy there was painting and fancy dress contest. Children dressed themselves as political leaders, electronic goods and saints.
The picture shows kids at the Mylapore Academy posing with their painting.
At Kartik Fine Arts there was Carnatic singing competition for kids.
There was special children's programe at P.S. H. S. School organised by IOB and The Federation Radio Children's Listening Clubs. A children's choir and carnaic vocal concert was organised. The 'Kuzhandhai Elakiya Ratna' award were given to eminent people in child education. Kanthalakshmi Chandramouli from Mylapore was one of the recipients for this award.
Special movies were screened at the Chennai Corporation Park, Fifth Cross Street, CIT Colony, Mylapore.
Click here to see more pictures of the children's day celebration that took place in the area.