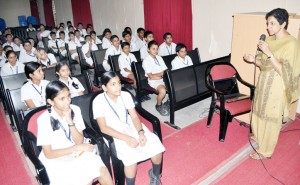 Namma Mylapore has for its aim the preservation, nurturing and appreciation of the culture and heritage of Mylapore.
With a small group of volunteers it conducts Heritage Walks for school children. It has now embarked on a new project – a slide show presentation on temple art and architecture in Mylapore by eminent archaeologist and research scholar, Dr. Chithra Madhavan. Chithra gives local schools three options in the choice of presentations  -temples in Mylapore, key temples in Tamil Nadu or famous temples across South India. This is a 45-minute presentation and  a 15 minute question and answer session follows.
The first in this series was launched at P. S. Senior School on November 1. About 100 students from standard 7 attended the presentation.
Schools who wish to make use of this facility hosted by Namma Mylapore may contact K. J. Suriyanarayan at 98415 97750 or Latha Nathan at 95000 34187.