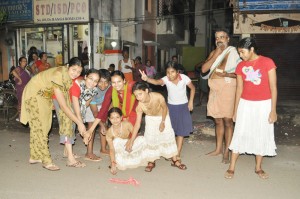 Diwali, the festival of lights, was celebrated in the neighbourhood with crackers and sweets.
People made special sweets and savories and distributed it among relatives and friends. This was also an occasion for families to unite and celebrate.
There were a lot of midnight celebrations in the area. At Anand Sai Apts. in Dr. Ranga Road the children celebrated Diwali with fire works at 12 a.m.(seen in the photo).
An entire family had gathered to celebrate the festival at Loganthan Colony near M.K. Amman Street.
There were special prayers and poojas at the Sri Kapali Temple. Many devotees lit lamps inside the temple.
Click here to see more pictures of the Diwali celebrations.