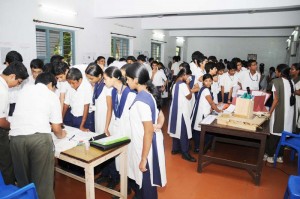 P. S. Senior Secondary School, Mylapore organised a 'Maths Festival' on November 10 in their school campus.  20 schools participated in it.
The events included Math Modelling, Chalk Talk and Quiz. Vidya Mandir, Mylapore got the first place in math modeling.
Prof Ramanujam, Computer Scientist, Institute of Mathematical Sciences was the Chief Guest at the valedictory function.
He along with the correspondent of the school K.V.S. Gopalakrishnan released "Mathematrix" a mathematical magazine brought out by the students of Class XII.