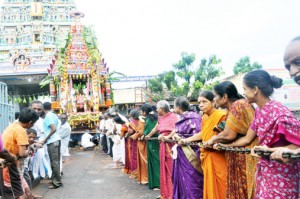 The inauguration of the new chariot (ther) of Sri Madhava Perumal Temple, Mylapore was held on the morning of November 2.
The rituals began early in the morning. There was a light drizzle and a small number of devotees gathered at the temple to take part in this event.
A kumbham was placed inside the chariot and devotees pulled the 'ther' and took it in a  symbolic procession. A few local area councillors and the temple trusties also pulled the chariot.
About Rs.30 lakhs was spent on building this chariot which has been crafted by traditional chariot builders.
The temple's office contact number is 2498 5112.