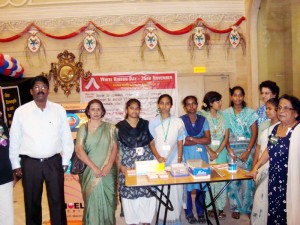 The Forum of Anglo-Indian Women celebrated 'White Ribbon Day' on November 25 at Citi Centre Mall, Dr. R.K.Salai.
The focus of white ribbon day is an initiative by the UN for the elimination of violence against women.
Six social work students from Stella Maris helped to sell white ribbon and pledges. (Seen in the picture)
Prateep Philip, IGP and founder of Friends of Police was the chief guest.
He spoke on violence against women and gender equality.  Many 'Friends of Police' college students attended the event.
On December 5 there will be a 'White Ribbon Awareness Programme' at the National Shrine of St. Thomas Basicila, San Thome.
The proceedings of this campaign is to be used towards counseling (St. Vincent de Paul Society) and women's rehabilitation.
– Reported by Colin D'Souza