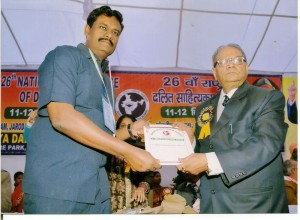 The Bharatiya Dalit Sahitya Akademi has awarded the Dr. Ambedkar Fellowship National Award – 2010 to D. Jayakumar, Physical Director of Santhome Higher Secondary School.
The award was presented by Raghuvir Singh Dewra, Maharaja Sirohi on December 11 at the 26th National Conference of Dalit Writers, held in New Delhi.
Sheila Dixit, Chief Minister of Delhi was the guest of honour.
This award was given to Jayakumar for his commendable social service rendered by him for the upliftment of the downtrodden, oppressed and depressed people of the society.