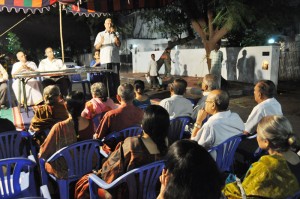 The annual meeting of CIT Colony Residents' Welfare Association was held on November 28. The annual accounts and the reports were presented to its members.
The office bearers for the next year were elected. The new office bearers are V. T. Gopalan – president, P. T. Govindarajan, and Uma Narayanan – vice president, T. V. Sekhar – secretary, D. Vasanth Kumar – Jt. secretary and S. Rajaram – treasurer.
Apart from organising music concerts on the last Sunday of every month the association has taken steps to upgrade the toilets in the park.
Hot coffee is been served in the morning for walkers and a water purifier has been set up. Walkers can also browse through the daily newspaper and some magazines that are kept in the park everyday.