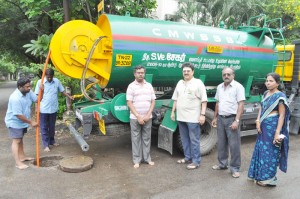 The Zone X (A) has now received a new Jet Rodding machine (sewer cleaning machine).
Mylapore MLA S. Ve. Sekhar handed over the lorry to the Chennai Metropolitan Water Supply and Sewerage Board zonal officers on Sunday, December 5 at his residence.
This is the fourth sewer-cleaning machine that the corporation owns, says K. Sampath Kumar, Deputy Area Engineer.
This machine was purchased from the MLA funds and cost nearly 20 lakhs, he said.
Seen in the picture is S. Ve. Sekhar and officials of the CMWSSB with the Jet Rodding machine.
Residence can call the following number for sewer cleaning in their areas 78450 61148 / 149/ 150.