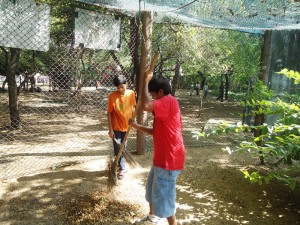 A few students from Mylapore participated in the Zoo Volunteering Program (ZVP) at the Guindy National Park on November 13.
This was in an effort taken to help the environment and protect the animals.
The students participated in a number of activities such as picking up plastic wastes scattered on the ground, cleaning the animal cages and helping the guards.
This is been done at least four to five times a month.
R. Mohan of P. S. Senor Sec. School stated that around twenty students were part of this project. We cleared the ground off plastic bottles and garbage.We also helped in cleaning the birdcages, he added.
The students enjoyed seeing the various species of birds and animals.
Srikaanth, a student of Sri Sivaswami Kalalaya said that, many people disturb the animals and tease them, which is very sad.
The students built signboards and created awareness among the people.
The students who participated in it are members and volunteers of an environment conservation organisation called 'Roots & Shoots'. For more information contact Arun at 7838573449.
– Reported by Vaishali Jayaraman / Student reporter