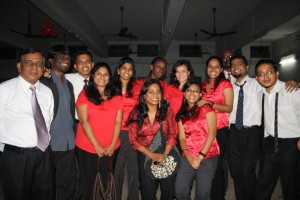 Plans for the annual SAN THOME CHRISTMAS FEST are rolling.
This is an initiative of the San Thome community. It is hosting 3 special events in this area and everybody is invited. These will supplement the events that are being held in churches, schools and campuses.
On Dec. 26, 3 p.m. onwards at Nirmala Nilayam hall, opposite San Thome School there will be contests, games and a party for kids. To register call 9884688984 / 2464 1815.
Later that evening, at 7 p.m. at St. Bede's School, there is a CHRISTMAS CAROLS & MUSIC CONCERT.
The show opens with The Revival Singers choir led by M. M. Gaspar ( they are seen in the photo) followed by a concert by a band featuring Enoch David – drums. Nelson Samuel  – keyboard. Gerard Joseph – bass guitar. Judah – rythym and lead guitar. Preethy and Prashanth Gaspar – lead vocals. Priyanka and Pradip Gaspar – backing vocals
On Dec.27, 5 p.m. onwards at Nirmala Nilayam hall, Opp. San Thome School there is a party for senior citizens. Open to all above 60 in San Thome and Mylapore.  Fellowship, carols, fun games. Call  9884688984 to sign up.
The priests at St. Bedes and the nuns at Nirmala Nilayam have been gracious to spare the spaces for these events.