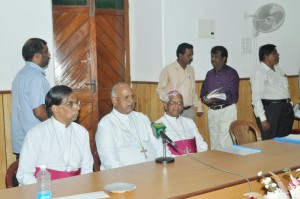 This Sunday, San Thome will host a large gathering of bishops of the Catholic dioceses in India.
They are here to attend the Conference of the Catholic Bishops of India (CCBI) which is having its 23rd Plenary Assembly from January 6 to 12 at Poonamallee.
Over 150 bishops, cardinals and secretaries are participating in this meeting. Before this event, this community will gather for a solemn High Mass to be held at St. Bede's School campus on Sunday, January 9 at 5.30 p.m.
The participants of the CCBI will be present for the service. All the lay people are also invited to attend this Holy Mass.