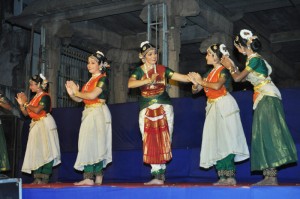 "Its wonderful to dance in the open," exclaims Revathi Ramachandran, moments after she leads her team of dancers away from the main stage at about 9.35 p.m. on Thursday.
Revathi presented the final act on the main stage at Sannidhi Square on Day One of the annual Sundaram Finance Mylapore Festival. A production of Kala Sadhanalaya titled ' Jaya Jaya Bharatham'.
As the dancers took their bow, a big round of applause greeted them. Clearly, those who sat through the whole if it enjoyed the recital which are normally hosted inside auditoriums by sabhas.
Open air recitals can be wonderful experiences but when a festival site sits in the middle of a busy temple zone, adjustments and co operation is key.
Rasi, Giri Trading, Shanti Gresses, Bharatiya Vidya Bhavan and the householders in this zone do adjust for they have come to accept this Fest an event Mylapore can be proud of.
A nadaswaram recital always opens the day's shows in the centre. This year, guru Mylai Rajendran disciples present in all the four recitals. Rajendran gets students from all over south Tamil Nadu. They study at his home and stay in small, rented spaces. Many go on to make a good career.
The opening evening recital was tight. It is nice to showcase gurus of the neighbourhood.
It is amazing – the manner in which quiet streets like Pitchupillai Street and Kumaraguru STreet, adjoining the temple turn into hubs of excited men and women engrossed in the display, sale and bargain of little works of art and craft. On one side are women who are members of Self Help Groups, on another students from city colleges. Both are learning the tricks of selling at a crowded Fest.
Officer Jayaraman and his team at Sri Kapali Temple go out of their way to lend a hand. One of them even 'restores' the framework of a peacock which will be brought out to the Sannidhi Square and in the hands of artist V. V. Ramani, get a life of its own. A perfect mascot we will hopefully have near the ther this weekend.
The main hall inside the campus of Lady Sivaswami Girls School will probably be the most buzzing space this weekend. A Kids Zone offers a string of little things to do and learn for children by a team led by the redoubtable Meera Rao, two intense contests in Ada-pulli attam and Palankuzhi will be held here and Rajagopal will host the annual Mylapore Quiz where questions like – What did Sir Sivaswamy have to do with ships and What is proportion of milk used in the famed rosemilk – may be asked!
For more info check www.mylaporefestival.com.
You can also check the photo gallery for pictures.