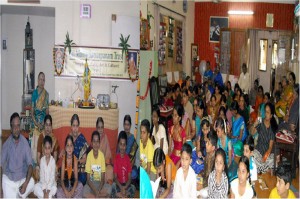 Sri Matha Samarpanam Trust welcomed the New Year with the chanting of "Adithya Hrudayam" and "Vishnu Sahasranamam" by its members and children.
Many children and elders participated in the mass chanting.
The children were presented with goodies after the aarthi was performed. Prasadam was distributed to all.
A Sanskrit teacher explained the meaning of the slokas to the children.
The trust conducts monthly sathsangh where the children are given a chance to exhibit their talents in reciting the slokas and songs.
For more information contact the trust at 98401 88233 / 9444602237.