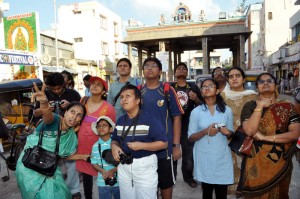 The 2011 edition of the Sundaram Finance MYLAPORE FESTIVAL is ready to roll.
The stages are being erected, the artistes are into their final act of rehearsing and the buzz is getting stronger.
This past week, student volunteers of Stella Maris' PR Studies Dept. went around the mada veedhis to formally invite families and shop owners.
Another team is undertaking a traditional promo in the inner streets to promote the hugely popular kolam contests (there are only 30 more slots left and you may call 94446 74561 to sign up)
To warm you up for the Fest, there are two fun events this Sunday, Jan. 2, 2011
The Discover Mylapore Contest – starts at 4 pm. Open to teams of three. Start and end point is Nageswara Rao Park, Luz.
Get a clue sheet that takes the team to many nooks and points in the Mylapore neighbourhood. At each point, look for answers to the questions in the clue sheet. You then drop the completed answer sheet at Nageswara Rao Park before 6 pm. Use of cars prohibited, but helicopters can be hired! Registration is not required.
On the same Sunday, at the same venue, at 4.30 p.m. the Kids Kolam Design Contest is to be held
This event is open to kids in class 6 to 10. Kids will need to draw a creative kolam design on a printed sheet with dots given to them and colour it. Duration 45 mins. Registration is not required.
The Fest opens on Thursday next, January 6 and runs for four days, with events through most parts of the day on weekends.
While the big events like dances, dance-dramas and concerts take place on the main stage in Sannidhi Square outside the eastern gopuram of Sri Kapali Temple, five streets and two other venues will be abuzz with an assortment of acts, sales and shows.
A KIDS ZONE is being prepared at a hall at Lady Sivaswamy School campus. Co-ordinated by well known art and craft teacher Meera Rao, this space will be open on Jan. 8 and 9 and will host short training sessions in fun activities for children.
Here is a peep in –
Jan. 8 : 2 pm to 4.30 pm
Five different art and craft workshops to choose from.
Paper bag making, greeting card & book mark making, photo frames making, pencil holder making.
Jan. 9: 10.30 am to 12.30 pm
Five different art and craft workshops to choose from.
Decoupage key holder making, artistic stickers, trinket box, stencil craft, aqua tiles making
Materials will be provided. The participants can bring their own scissors, fabric / glitter colours of their choice.
Only children will be allowed entry here. Parents can come back to pick up their children.
Clearly, the accent of this Fest is on children. On Christmas evening 12 children joined the PhotoWalk of Mylapore and snapped over 300 pictures, including a timely one of the GSLV rocket going up in smoke over the Bay of Bengal.
The best pictures will be exhibited near the theradi on all four days of the Fest.
The Fest always opens every day with mike-less concerts in Nageswarar Rao Park, Luz. The tradition continues and on Thursday, a young nadaswaram troupe will greet morning walkers here. Every evening, there are art contests for kids here.The annual MYLAPORE QUIZ is on Sunday next, at Lady Sivaswamy Girls School hall at about 3 p.m. A written prelim round and a final round will be held and the quiz is conducted by Rajagopal. All questions and asides are on Mylapore.
All the info on the Fest, pictures and a blog is featured on the web site of the Fest – www.mylaporefestival.com. The contact is 98405 44629.
Click here for more info about the pre-fest events. You can also check out the gallery for pictures of the events and contest.