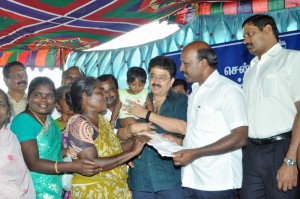 The Chennai Mayor, M. Subramanian met the general public on January 8 from 10 a.m. to 1 p.m. in Dooming Kuppam, San Thome.
Mylapore MLA, area councillors, senior officers of the civic body, Metrowater officials and officers of state bodies were also present.
Many residents of the Dooming Kuppam and surrounding areas had come to give their petitions to the Mayor.
Civic issues like overflow of drains, improper garbage dumping/ cleaning and poor streetlights were sorted out immediately, says Selvaraj, PRO.
The Mayor said that the other petitions would be given attention in due course of time.
The road that runs through this seaside colony was relaid and the area spruced up for the Mayor's visit. Some people said that such overnight development made things better for them.
Such meetings in city neighbourhoods are a regular feature of the Mayor's tour of the city.