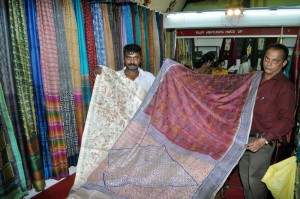 'Ikats of India' is a special handloom exhibition and sale that is taking place at the Kamadhenu Kalyana Mahal, Luz Church Road, Mylapore. The expo is on till January 13.
On display are special Tie and Dye fabrics from Tamil Nadu, Andhra Pradesh, Orissa, and Gujarat.
You can also shop for saris, dhotis, lungis, towels, home furnishing, kitchen line, dress materials and bed sheets and spreads.
This expo is organised by Weavers Service Centre, Chennai and National Handloom Development Corporation, Lucknow.