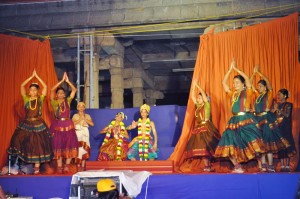 Even the Rain God was kind to the dancers of Rukmini Devi Natyakshetra Foundation on Friday night as they staged the two hour long dance drama on 'Andal Kalyanam', so appropriately for the season.
It was past 10 p.m. and the drizzle did not discourage the 200 people in the Sannidhi Square who sat through till 11.05 p.m. and enjoyed this main show on Day Two of the Sundaram Finance Mylapore Festival.
Guru Premnath and his team had to be patient as the smaller events took a greater part of the evening. But once they took the stage the narrative ran on.
Another group which really impressed the audience was the Padma Seshadri Bal Bhavan students from the Nungambakkam branch. The songs may have been wholly religious but the students presented them with lots of energy.
It was a very windy evening, a tad chill too. But as another group of students of Mylai Rajendran launched the events on the main stage with nadaswaram, people filed in.
T-shirts sold fast at the Info Counter near the ther. There are 2 designs. One that promotes green and the other flaunts a orange-blue peacock motif which won the prize for the best design. The latter Tees come in black and in white. (if any are left they will be put up for online bookings too!).
The kolam contests will dominate the weekends events. But the hosts are looking forward to the activity at the Kids Zone space created at lady Sivaswamy Girls School where children can choose to learn, experiment and make little arty things. Entry is free but restricted only to kids.
Also creating the buzz will be the pallankuzhi and adu-pulli attam contests at the same venue.
The finale on Sunday night is a grand concert of vintage Thamizh film songs by the St. Louis Orchestra of the Blind.
For more info about the festival log on to www.mylaporefestival.com
<< Mail your comments on the Fest >>