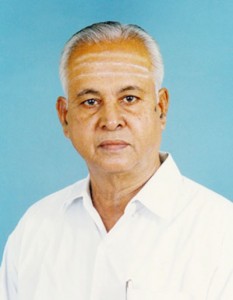 Bhudhur Vaidyanatha Santha Lingam (a) B.V.S. Lingans  founder of Lingans Photographers, one of Mylapore's oldest photo studios passed on December 20, 2010.
The only son of the founder of 'Ananda Vikatan', the famous Thamizh weekly  Bhudhur Vaidyanatha Iyer sold the name to Vasan when he could not handle it.
Lingan did his Intermediate at Annamalai University and worked as a Naval Officer in the Royal Navy from 1942 to 1947.
He sailed to Europe and other countries and finally served as the 3rd Secretary to Lord Mountbatten in Colombo before he retired from Naval service  and started his  photography business in 1949.
He had been trained as a photographer by his brother-in-law who had a photo studio in Panruti. Lingan improved the business by providing good service to his customers and introduced many  novel methods in photography, his family said.
Besides photography he had been trained by his father as a journalist. He composed many poems in Thamizh. He was a  good composer of 'Venbas' in Thamizh which is still considered a huge challenge even by a seasoned lyrist .
He also composed many  poems in English.
He was also a Kanjira  player and a disciple of  late Madurai Krishna Iyengar  a famous percusionist and vocalist and one of the early gurus of film music director Illayaraja. Lingam accompanied to many leading artistes as a kanjira player. Special mention must be made of flute Mahalingam and Kadri Gopinath. He had played the kanjira for  Swami Haridoss' margazhi bhajan group which has been going around the mada veedhis for over 25 years.
He is survived by his wife, 2 daughters and 5 sons
Lingans Photo Studio is at 144, Royapettah High Road Road, Luz. It has remained here since the time it opened for business.