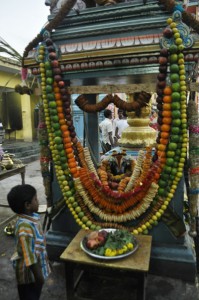 The neighbourhood was filled with the spirit of the harvest festival.
Sugarcane, manjalkothu and colour kolam powders were sold at every street corner.
Near Mandaveli Post Office, R. Rani sold painted and plain mud pots for cooking the pongal. These pots were painted by her husband Rajendran.
At Sri Karneeswarar Temple in Bazaar Road special garlands made of flowers, sweets and fruits were used to garland the nandi image in this temple (seen on the left).
T. Velu councillor of 150 Division organised a pongal celebration here. Sweet pongal was cooked in mud pots and distributed to all.
P. Pandian resident of Dr. Ambedkar Bridge, Mylapore decorated his cow Lakshmi with paint, flowers and balloons on the occasion of mattu pongal. T. Manogar from P.N.K. Garden, M.K. Amman Koil Street also decorated his cow Lakshmi. They were among the many who paraded the animals on this occasion.
The residents at Anand Sai  Apts. in Dr. Ranga Road made a colourful kolam in front of their apartment. The residents drew this kolam at 3 a.m. (seen below, left).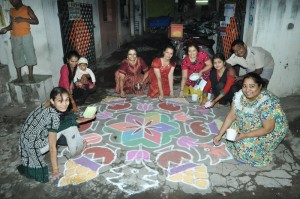 Kannum Utsav held at the Sri Vedantha Desikar Temple on January 16. Special Carnatic music concerts were held that day.
The womens Self Help Groups of the Montfort Community Development Society (MCDS) had their pongal celebration on January 18.
This was held at Srinivasapuram playground (behind Foreshore Estate bus terminus).
About 1800 women participated in this celebration.
They made pongal and shared it with people of this area. There were song and dance performances by some of the women (seen far below).