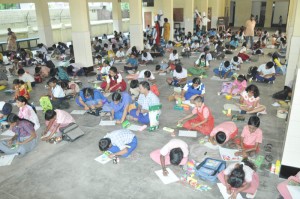 A painting contest for children was held at Rosary Mat. School on Sunday, January 30.
The contest was held in view of the World Cancer Day. This was organised by Vasanth Memorial Trust.
Children were allowed to paint on the topic 'Let tomorrow be cancer free'.
J. Ramanathan, Oncologist and Managing Trustee spoke to children and cautioned them about the effects of eating fast foods. He also emphasised the importance of walking and physical exercise.
About 300 children from 40 school participated in this contest.