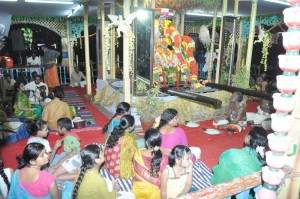 The annual teppam (float) festival of Sri Kapali Temple began yesterday, January 19.
The image of Lord Kapali and Karpagambal was brought in a procession from the temple. It was then taken around the temple tank in a decorated float.
Only special invitees, priests and artistes were allowed inside the float. People were allowed inside the tank's premises in small groups to prevent any mishap.
The images of Singaravelar and Deivannai will be taken around on the next two evening.
Click here to see more pictures of the Teppam festival. You can also see a small video of the festival at www.mylapore.tv