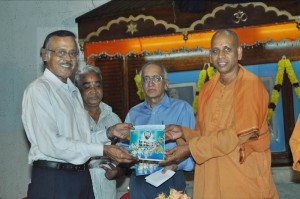 A souvenir was released on the occasion of the Platinum jubilee of Sri Ramakrishna Centenary Primary School held on March 5 and 6.
The celebration began on March 5 at the Vivekananda Centenary Hall. The school band welcomed the gathering.
Many alumni were also present on the occasion. A painting exhibition was held in one part of the campus.
The souvenir was released by Swami Atmaghananandaji Maharaj and was received by S. Venkataraghavan, former captain, Indian cricket team. Venkataraghavan is also an alumni of the school. He passed out in 1953.
In the photo are (l to r) S. Venkataraghavan, chief guest Dr. M.S. Ananth, Director, IIT Madras and Swami Atmaghananandaji Maharaj who pose with the souvenir.
<< Were you an alumni of this school in the 50s and want to share your memories? Email them please >>