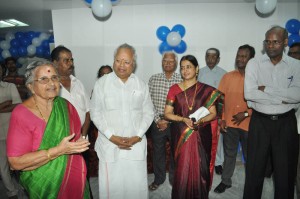 The State Bank of Hyderabad, Mylapore branch, which was located at East Mada Street, Mylapore has shifted to a new premises on 25, First Floor, Chitrakulam North Street, Mylapore.
The inauguration of the new premises was held on March 23, today. Dr. Nalli Kuppuswami Chetti of Nalli Silks was the chief guest. He inaugurated the new premises with the lighting of the lamp.
The bank can be reached at 2464 3576 / 2461 6602.
Seen in the picture is Nalli Kuppuswami Chetti (second from left) with the branch manager Banumathi Prabhakar (third from left) interacting with some of the oldest customers of the branch.