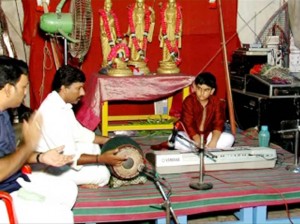 Sashank Krishna, 5th std student of Vidya Mandir School, Mylapore gave a Carnatic music performance on his keyboard during the Ramanavami celebrations on April 12 at Anjaneya Temple in Luz.
He played popular songs like Raghuvamsa Sudha and his performance lasted for an hour.
Sashank is a student of M. S. Martin. He had also been part of the award winning feat of Martin, where 75 children performed Carnatic music on keyboard on the same stage.
This feat was recognised by the Limca Book of Records.