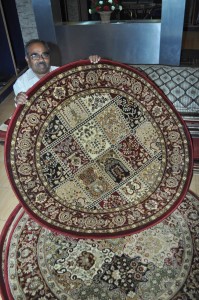 Innerspace is a new store on Venkatakrishna Road in R. A. Puram which speaclises in home furnishings. It was opened on March 27.
The store, spread over 1600sq.ft. has a wide range of bedspreads, upholstery, curtains, blinds, carpets and accessories.
We specialise in upholstery and curtains, says Muthu Raman, a partner of this business. Three childhood friends, who had been in this business for the last 30 years, have started this venture. The other two partners are E. Sivaraman and B. S. Sathya Pradeep Rao.
"We specialise in personalised orders for curtains and cushions as we also have a tailoring unit," says Muthu Raman. Innerspace also undertakes furniture making and provides consultation for interior solutions.
The trio have plans to open more stores in the city.
You can shop for bedspreads from Rs.450 onwards, for cushions from Rs.185 onwards and for curtains from Rs.300.
The shop is open from 11 a.m. to 8 p.m., Monday to Saturday.
Innerspace is located at 1st Floor, 'Mani Maligai', 22/2, Venkatakrishna Road, R. A. Puram. Ph: 4206 9984.