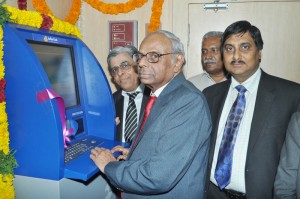 Indian Bank's Alwarpet branch located at Eldams Road has opened a new E- banking lounge recently.
The inauguration of this facility was done by economist Dr. C. Rengarajan, Chairman, Prime Minister's Economic Advisory Council on April 11.
All customers of Indian Bank can make use of the facilities available at this lounge, says Kannaiya Naidu, branch manager.
The lounge functions 24 x 7 and is fully computerised. It is equipped with cash depositing and dispensing machines, an electronic cheque drop-box, internet banking and self service kiosks.
Customers can avail account summary and account details queries, fund transfers to other accounts in Indian Bank, seek fresh cheque books, order stop payment of cheques and issue standing instructions for funds transfers at the self service kiosks.
Apart from these services, the inter-bank mobile payment system and ATM / Debit card for senior citizens service was also launched on the same day.
The senior citizens' debit card has a POS limit of Rs.50000 per day (for meeting emergency needs) and cash withdrawal limit of Rs.25000 per day.
The card will also have other vital details of the customer like birth year, blood group and a photo of the card holder.
These services can be availed at other branches also. For more details log on to www.indianbank.in.
Indian Bank, Eldams Road contact – 2435 0116, 2435 7817.