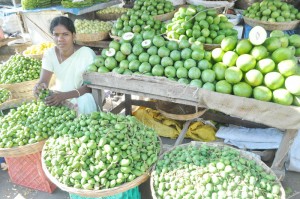 If you love making pickles this summer and have not bought the tender mangoes  (maavadu) to pickle them, then you should head to the mada veedhis around Sri Kapaleeswarar Temple, Mylapore.
Kavitha, featured in this photo has large stocks of them at her shop, Kavitha Veg Shop on South Mada Street. The rate is Rs.120 for a kilo.
Kavitha also offers lime, avakkai, magali and nellikkai. You can reach her at 97908 36647.