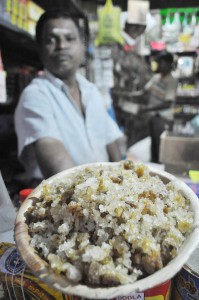 A quick bite of a water melon slice, a cup of buttermilk or a glass of chilled sugarcane juice – these are the simple and cheap coolers in summer for people who must be in the open.
Some people turn to more indigenous products to keep their bodies cool.
They head to the little shops in the heart of Mylapore which sell Indian herbs and nature products that have medicinal properties.
This summer, we checked out the store called Tirupathi Balaji Homam Shop run by P. S. Balaji and V. Shivakumar, on Bazaar Road, off Kutchery Road in Mylapore.
You just have to suggest to Balaji that you need some simple stuff to keep cool in this heat and he shows you a few options and even tells you how to prepare and consume the coolers.
Take a look at Pisin Badam massed in a cane container. You need to soak the badam in water overnight.
It turns into a jelly-like substance. You can put it into milk or in water, add sugar as required and make a nice drink.
Balaji says this mix is suggested for those who have mild stomach aches. It cost Rs.80 for 100 grams.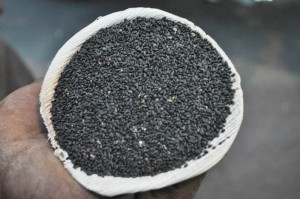 Take a look at Sapja Veethai (photo on left). You need to soak a bit of it in water and leave it overnight. This too turns into a jelly-like substance. Add it to cold milk or water and drink a glassful to keep cool.
There are a few other products on sale at Tirupathi Balaji Homam Shop. The contact number is – 2498 3385, 2498 0763. Address – 47, Bazaar Road.