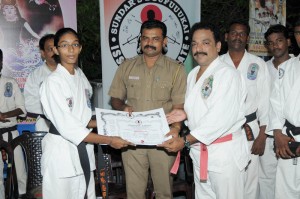 Karate black belt training camp was held last month in R. A. Puram. About 40 students participated in this camp.
The final belt and certificates were issued on May 8 at 21, 1st Main Road, R. A. Puram. (Behind Mandaveli Railway Station, Near R. A. Puram Corporation Ground).
Eswaran, Inspector, Mylapore was the guest of honour. He distributed the belt and certificates to the participants of the camp. Chief instructor Renshi AR. Sundar, 6th Dan Black Belt was also present on the occasion.
This is organised by the All India Boufuuukai Isshinryu Karate Association.
The association offers such camps on a periodical basis. For more information contact Sudha Dhamodaran, Co-Ordinator of the All India Boufuukkai Isshinryu Karate Association at 97102 36519.