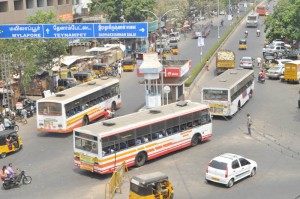 Many issues will seek the attention of the newly elected MLA of Mylapore constituency, R. Rajalakshmi of the AIADMK party.
One issue that seems to bother a significant number of Mylaporeans, especially senior citizens is the 'one way' traffic system that now prevails in and around the Luz neighbourhood.
The system was put in place almost a year ago. Police said it would be studied. But the outcome of that promised study is not public.
Mylapore Times went out to the neighbourhood and spoke to a few people to seek their views on this issue. Here is what they said.
S. Ansari, clothes store owner on Luz Church Road:
Luz is a busy shopping centre but the one way system has certainly affected all of us who run clothes stores here. Access to our stores has been limited. Shoppers now have to travel on a roundabout way and many do not want to do that. So many of us have stopped stocking large quantities. How can we take a risk?
A. Munuswamy, pavement hawker of belts, bags, caps, Luz
We depend on people who go up and down in Luz. When there was two way traffic, people used to move on both sides of the main road and shopping here was easy for them. Now, its one way limited traffic. Our business has been hit.
Suresh, owner, Rex Fashions, Luz
Our regular shoppers have been telling us that the roundabout approach puts them off because they lose time and it's a bother. It is hard to get new shoppers. People want quick access. We also witness many small accidents here because people drive fast in the 'one ways' system and people who go by walk cannot cross the main road easily.
K. E. Kamalakannan, resident of Karpagambal Nagar for 50 years
For years, we have had access to all parts of our neighbourhood, be it market, shops, temples or friends. The two-way system made travel easy. Now, seniors like us face problems. We have to walk around to get to a bus stop or hire an auto to go to the other side.
K. Lakshmi, salesperson at store on Royapettah H. Road
The one way system has greatly affected businesses in this area. Access has discouraged shoppers because many have to take a roundabout. The plus feature of the one way is that traffic is less chaotic and the noise pollution has lessened and that has brought us some relief.