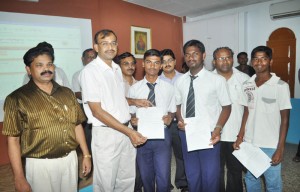 The state government's new directive that school students be provided the facility to register with the local employment exchange on campus was followed quickly.
The process rolled out on the day students dropped in to get their marks sheet and certificates. A simple launch function was held at San Thome Higher Secondary School, San Thome on May 25.
Santhosh Misra, Director of Employment and Training and Dr. N. Murugan, chief education officer of central zone were present.