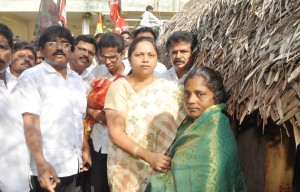 Mylapore's new MLA is slowly getting used to her new role as MLA of this constituency.
Having won the election, R. Rajalakshmi has had a hectic fortnight.
She had to attend a meeting of the AIADMK party MLA's, attend the swearing in function of the cabinet, do the pleasantries and finally take her turn at being sworn in as a legislator in the Assembly at Fort St. George on Monday, May 23.
She however squeezed time to get back to the Mylapore constituency on Sunday last to say 'thank you' to the voters. It had to be done double quick because AIADMK leader Jayalalithaa has expressly asked all the MLA's to tour their constituencies to say 'thanks'.
Rajalakshmi who resides in T. Nagar was an hour late on Sunday for the 'thank you' tour.
That morning she did the rounds of the inner slum colonies off the MRTS station of Thirumylai and some pockets around this neighbourhood.
To respect the suggestion of Jayalalithaa that MLA's should not go around in grand convoys, Rajalaksmi did the rounds on foot and got a feel of the muck and waste water that pockmark these colonies.
She will do the rounds of the other areas in the weekends to come.
She says she first wants to learn the rules and responsibilities of an MLA so that she can function well inside the Assembly. The first session will begin in early June.
She also intends to open a local office in Mylapore – in all probability that will be in a Chennai Corporation building on Kutchery Road.
The previous MLA, S. Ve. Shekher also had his office in this area.